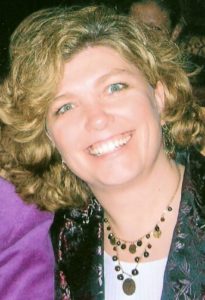 Gigi Devine Murfitt writes and speaks on many different topics. Raised in a single parent home with nine siblings, her life has been dotted with stories of courage and hope.  Included are many stories related to individuals with disabilities.  Her mother, Helen Devine, was disabled in a school accident as a teenager.  Her brother Bob is 70% deaf.  Gigi's youngest son Gabe was born with severe congenital birth defects.
She completed a three year Seattle Ministry Institute program.  Her studies included personal disciplines, life management, leadership development, communication and pastoral care.  Gigi's final project for this program was to establish a 501(c) 3 nonprofit organization named Gabriel's Foundation of HOPE.  This organization encourages individuals with disabilities and their families by helping them overcome and persevere.  Donations are accepted online at www.GabesHope.org and are fully tax deductible.
She and her husband Steve have raised two boys and are looking forward to helping other families through Gabriel's Foundation of HOPE.  They live in western Washington.  Steve, Gigi, Zane and Gabe Murfitt are often asked to speak as a family where they share their incredible story.  They have spoken at business meetings, civic organization meetings, church events and retreats.
To request Gigi or her husband and sons for a speaking engagement please fill out the information on the Contact Us page.  You will be receive a reply from Gigi's office for schedule availability.
Also, check out the Northwest Christian Writer's Association's Speaker's Connection.  This is a great place to find a speaker for your event. http://www.nwchristianwriters.org/
Check out Gigi's Blog to read random thoughts and inspirational writings.  [email protected]