Hello friend. Bless you tonight!
Today was one of those days where I sensed God's blessing more than ever. In big ways and small, I felt His presence in my day.
• Last night during praise and worship at our leader meeting at The City Church, I asked God for a healing breakthrough in many areas of my body. I've had issues with my neck, back, and knees. Today my neck is feeling really good! Thanks God!
• Last week I began a healthy eating plan after meeting with a dietician. I started out with a detoxification program to clear out the unhealthy toxins that are likely causing my joint pain because of inflammation. Guess what! For the first time my joints didn't feel achy when I rolled out of bed today. My physical therapy appointment felt so good. Glory Hallelujah!
• I started a Wii Fit program tonight. That little guy on the program had a few words with me since I haven't been on the Wii in a long time. I knew I had gained weight and he reminded me of just how many pounds since he kept track from my last workout. Man! He didn't give me a break at all. But after a half-hour of working out, I felt great. I'm on the road to recovery. Yes, Lord!
• I had a surprise package in the mail from my sister Marilyn. She sent me a beautiful HOPE ornament. Just because. I love it! Love my family!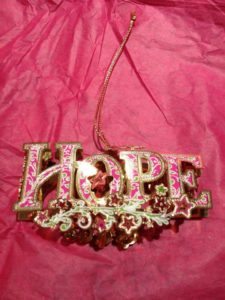 • The final typeset of Gabe's book came to my inbox today. I read through the changes and everything looks great. It is FINISHED! Let the fun begin!
• A picture book I created about Gabe was delivered today. This is filled with photos and will be for the younger reader. It is titled "Growing Up Gabe –Touching Lives with My Three-Inch Arms." More ways to share our story!
• We redesigned our Gabriel's Foundation of HOPE brochure and that was in my inbox too. Things are moving along for our nonprofit organization and I sense a new momentum shifting. I am grateful God!
• Lights, Camera, Action! When I came home from work today, Gabe was being interviewed on camera for our book trailer. He also worked on his promotional speaking video. It warmed my heart to watch him go through the takes and share his desire to change lives. Can't wait to see the video!
• I think the most important kiss on the cheek from God today was an email Gabe received from a young girl he spoke to last week. Her story breaks my heart. But I have HOPE in Christ that He will make a way for this young girl and her family. And I just know Gabriel's Foundation of HOPE will have something to do with it. Dear Jesus, help us help her. She needs our care.
Holy Momentum.
Pastor Judah talked about it last night. I feel it with all of my heart. God is faithful.
He loves you. He wants to bless you too. So tonight I pray He will show His glory.
God Bless your heart with Holy Momentum!
Gigi