It's here! Memorial day weekend 2011.
Yesterday my Canadian friend Karen laughed with me about her observation that the weekend seemed to be all about sales on meat for the big barbeque.
Memorial Day sales and barbequed burgers and hot dogs.
Is that what it's really about?
I don't think so.
It is really about decorating the graves of those lost in service.
But in our quest for beaches and hot dogs and sales on sandals, I think we've forgotten those who served our country.
I remember when I was a little girl I wore a red poppy pin in memory of soldiers who died for our freedom.
I found this little poem by Moina Michael to remember the red poppy that symbolizes a life sacrificed.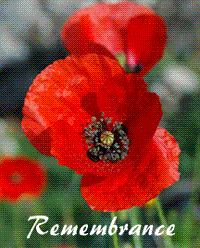 We cherish too, the Poppy red

That grows on fields where valor led,

It seems to signal to the skies

That blood of heroes never dies.
So I hope you'll take time to decorate a soldier's grave before you head out to that picnic or sale.
God Bless You with wonderful memories this weekend. 
Gigi
Shout out to my niece Meghan on her birthday (May 26th) and my sister-in-law Linda who shares a birthday with me (May 27) and my brother-in-law Denny who turned another year older on Sunday. It's a birthday weekend!