This morning I was reflecting about the season of Easter.
The beautiful lilies, daffodils, tulips, colorful eggs, patent leather shoes, and new dresses.
As one of ten children of a single mom, we purchased new outfits only a couple times a year.  Mom often received gifts of money to bless us during the Easter season which allowed us to go shopping for the perfect Easter attire. 
I remember going to Sears to pick out my white gloves, a wide brimmed hat with a pink flower to match the pattern on my mint green dress, anklets and shiny white shoes. Sometimes Mom could even afford a new purse that matched my shoes. I always felt like a princess in my Easter garb.
God always provided. Sometimes in unusual ways.
Mr. Justini, our neighbor across the street, or my grandma's landlord Mr. Knight, usually gave mom shiny silver dollars to put under the grass at the bottom of our Easter baskets.
It was a very special time. The Montana weather was unpredictable and sometimes we searched for eggs in the snow. It was actually easier to find the colorful eggs against the crisp white backdrop.
Can you imagine twenty eager hands trying to dye Easter eggs? Many people often said my mom had the patience of Job. If you were anywhere near our kitchen table during the egg dying extravaganza, you would understand why.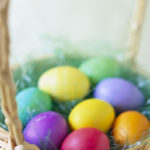 But for me Holy week and Easter has not always been about dying eggs, Easter baskets filled with candy and toys, or new clothes.
It has always had an incredible spiritual significance.
All that stuff of the Easter, pales in comparison to the gifts we receive from Jesus through His sacrifice on the cross and the gift of the Holy Spirit.
I've traded a few things from the Easter basket of old:
I exchanged my patent leather shoes for feet shod with the Gospel of Peace.
My new outfit is the Armor of God which includes the belt of truth and the shield of faith, the breastplate of righteousness.
Instead of the toys, my gift is life everlasting and the Holy Spirit who gives me love, joy, peace, patience kindness, goodness, gentleness and self-control.
This is my prayer for you today. Receive the gift that God gave us and be filled with the many gifts the Holy Spirit offers us.
Your basket will be filled with gifts to get you through another day.
I'm praying for you this Easter week.
God Bless Your Heart with the Gifts of God's Holy Spirit
Gigi
I love the book of Galatians so I leave you with this Scripture to ponder in Chapter 5 verse 22:
22 But the fruit of the Spirit is love, joy, peace, longsuffering, kindness, goodness, faithfulness, 23 gentleness, self-control. Against such there is no law. 24 And those who are Christ's have crucified the flesh with its passions and desires. 25 If we live in the Spirit, let us also walk in the Spirit.