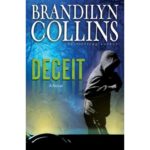 DECEIT is a thriller novel that lives up to Brandilyn Collins Seatbelt Suspense™ trademark. I found myself holding on to my chair waiting for the next scene to steer me in a different direction.
Joanne Weeks is in for the ride of her life as she hunts for the truth about Baxter Jackson. Did this "man about town" kill both of his wives? Will he kill her too?
Jump in and buckle up for a must read thriller. I couldn't put it down. And I left the light on at our cabin, just for good measure.
This was the first of Brandilyn's novels that I've read. After I finished it I fired up my Kindle and ordered a few more titles. Brandilyn does an excellent job in this page turner. I had to remind myself to breathe a few times.
Joanne Weeks is a skilled Skip Tracer – someone whose job is to hunt down people who try to skip town. She's good. I wanted her to find Melissa so together they would solve the mystery. But the book takes you for a ride filled with twists and turns that can sometimes make you dizzy.
I really wanted to jump into the book and slap Baxter Jackson for his creepy arrogance. Linda needed someone to help her stand up for herself. Melissa really had me fooled.
Brandilyn did an excellent job of filling in Melissa's backstory. It's hard to do but done well in this novel. It kept me turning the pages to learn more.
By the end of the book I had to go out and buy some Jelly Belly candy (read the book and you'll know why). Then I had to take a breather.
I'll definitely recommend this one to my neighborhood book club. Although I think afterwards we'll see more porch lights left on in our cul-de-sac. I'll find myself watching for hooded men the next time it rains…which for me living in Seattle will likely be tomorrow.
ISBN 978-0-310-32879-7 DECEIT can be purchased at http://www.amazon.com/Deceit-Novel-Brandilyn-Collins/dp/0310276446/ref=sr_1_2?ie=UTF8&s=books&qid=1278998574&sr=8-2
I hope you'll post your own comments so I can pass them on to Brandilyn.